School Janitorial
A-Action school janitorial services help to maintain a healthy and safe environment for faculty, staff, and students by offering comprehensive cleaning plans and skilled and experienced staff dedicated to providing first rate maintenance.
Experienced cleaning services are provided for:
Daycares
Preschools
Colleges
Universities
Childcare centers
Any educational facility
Bacterial Contamination in Schools And Gyms
Like any other environment that is open to the public, schools can be a breeding ground for bacteria and germs. Illness can spread quickly across a school population if hygiene and general maintenance are neglected. Systematic cleaning of the school gym, cafeteria, washrooms, water fountains, desks, library, and other common areas such as school computer keyboards and entryways, can greatly inhibit the spread of viruses and other contaminants. 80% of germs are transmitted through casual contact with an unsanitary surface such as a table, doorknob or other easily accessible object.
Janitorial Services for School Gyms and Recreational Areas
School gyms and fitness facilities require thorough cleaning. A-Action utilizes non-toxic and hypo-allergenic products that are effective without producing adverse health reactions in students and staff.
School Gym janitorial services checklist:
Dusting, wiping and disinfecting all equipment
Floor washing and maintenance
Bathroom disinfecting
Odor removal
Wash and clean entrance, drains, glass
Shower cleaning and sanitization
Mold and mildew removal
Trash disposal
The A-Action Cleaning Advantage:
Modern and safe sanitization equipment
Reasonable rates for educational institutions in the Metro Atlanta area
Licensed, insured and bonded cleaning technicians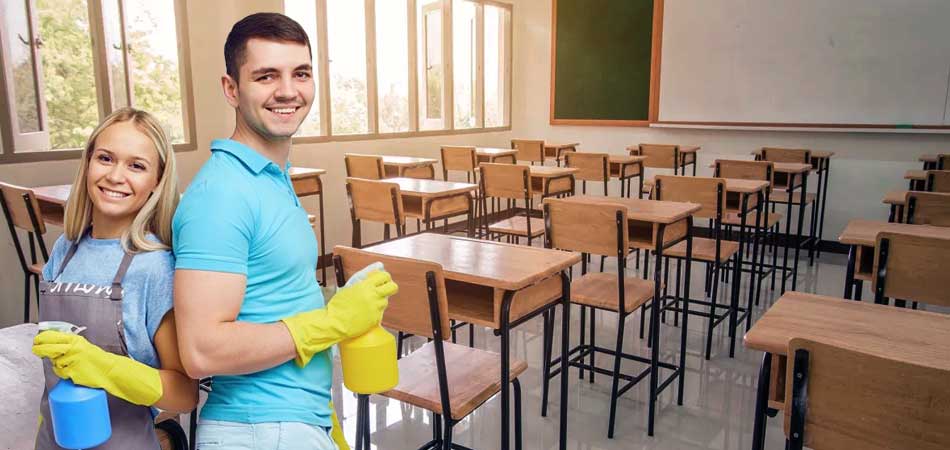 Keep Your School Cleanwith A-Action
Unclean areas can be breeding grounds for all kinds of bacteria that can harm your students. By scheduling regular cleaning services with A-Action, you can rest easy knowing your school or educational facility will always be kept spotless, no matter what. Our efficient cleaning services are widely regarded as some of the best in town. We pride ourselves on offering cleaning solutions that are the perfect mix of quality and affordability.
How Can A-Action Benefit You?
If you are in charge of a school or educational facility, keeping it clean is a significant responsibility. There are many benefits to trusting us to keep things in good shape, but here are just a few:
Send the right message to students, parents and faculty. Mess sends the message that you don't particularly care about your students or faculty; even if the opposite is the case, dirty classrooms suggest otherwise. Show your staff and students that you value them, by always keeping their environment clean.
A Better Educational Environment Starts with A-Action
Our affordable rates, friendly staff and reliable service have made us a favorite for a wide range of educational facilities. The health and wellbeing of your students is always our top priority. Our experience providing cleaning solutions for a diverse clientele is where our strength lies; from kindergarten to university, we've cleaned a wide range of educational facilities. For more information on our services, as well as to receive a free, no obligation quote, get in touch with us today. A-Action consistently strives to provide the most effective approach to janitorial services through the use of technologically advanced equipment and maintenance methods that actually make a difference.